Hanger & Lavander Set Free Pattern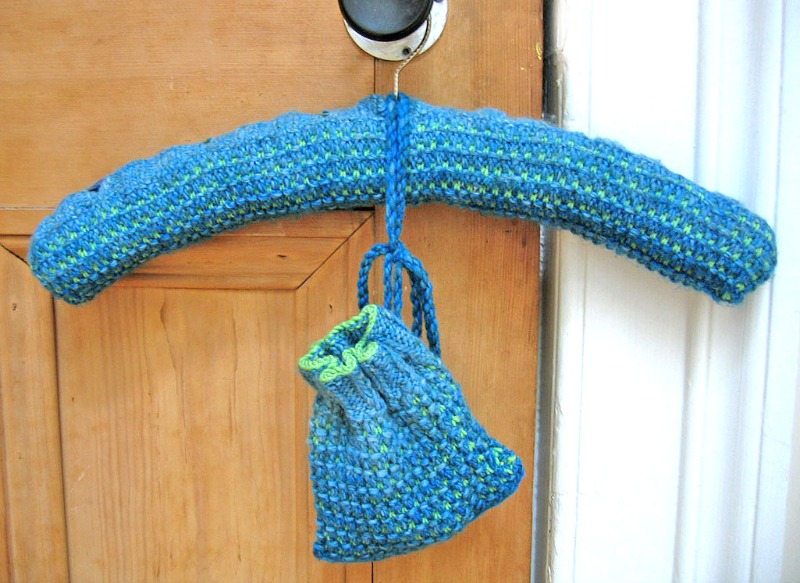 Materials
A Lana Grossa Soffice* sh 08 x 1 50g
( 62% merino extrafine, 28% acrylic, 10% cashmere 130 m (142 yards ) per 50 g ball)
B Lana Grossa Merino 2000 sh 65 x 1 50g
( 100% Merino wool, 160 m ( 176 yards ) per 50 g ball)
* Although Soffice is no longer available I've given the metreage etc to make finding a substitute easier )
Also needed
One padded hanger
Six small shell buttons; 2 x dark blue, 2 x lime green, 2 x pale turq
Dried lavender
Tension
32 sts and 42 rows to 10 cm measured over moss & slip stitch pattern using
4.00 mm needles
Abbreviations
K—knit P—purl st(s) - stitch(es) rs—right side
Ws—wrong side K2tog—knit 2 sts together
P2tog—purl 2 sts together tbl—through back of loop yf—yarn forward
Sl1 wyib—slip stitch with yarn at back of work
Sl 1 wyif—slip stitch with yarn in front of work
Knitting the Hanger
Using 3.75 mm needles and Yarn A cast on 123 sts and work in rib as follows;
Row 1: ( P3, k3) to last 3 sts, P3
Row 2: ( K3, p3) to last 3 sts, k3
Row 3: As Row 1
Row 4 ( Buttonhole row) : * Rib 15 sts, p2tog, yf, p1; rep from * to last 15 sts, rib to end
Work 2 more rows in rib as set by rows 1 & 2
Change to 4.00 mm needles and begin moss & slip stitch pattern as follows;
Row 1: Using Yarn A, ( k1, p1) to last st, k1
Row 2: As Row 1
Row 3: Do not break off Yarn A join in Yarn B ( k1, sl 1 wyib) to last st, k1
Row 4: ( P1, sl 1 wyif) to last st. p1
Repeat these 4 rows a further 8 times then Rows 1 & 2 once more ( 38 rows
total) Change back to 3.75 mm needles and break off Yarn B. Work 6 rows in rib as at other end of work, Cast off in rib
Knitting the Lavender bag
Using Yarn B and 3.75 mm needles cast on 65 sts. Break off Yarn B, join in Yarn A and work in rib as follows;
Row 1: P1, ( k3, p3) to last 4 sts, k3, p1
Row 2: K1, ( p3, k3) to last 4 sts, p3, k1
Repeat these 2 rows twice more ( 6 rows total).
Row 7 ( Lace hole row): P1, * k2tog, yf, k1, p3; rep from * to last 4 sts, k2tog, yf, k1, p1
Row 8: As Row 2
Change to 4.00 mm needles and work in moss & slip stitch pattern as for hanger for 36 rows.
Work 2 more rows in moss stitch
Next row: K2tog, k31, fold work in half so that wrong sides are matched and cast off both sets of stitches together
Finishing & Making Up
Hanger
Sew in all ends and sew buttons in place alternating colours as shown in photo. Fold piece in half so that right sides are facing and cast on / cast off edges meet. Sew sides only where striped pattern occurs. Turn work right side out and place on hanger. Fasten buttons then fold side edges inwards and sew a couple of securing stitches st each end using photo as a guide. Sew a couple more securing stitches around metal hook of hanger to keep in place
Lavender bag
Sew in all ends and fold so that right sides are facing. Sew side seam. Make one 70 cm long twisted cord from Yarn A doubled and thread through lace holes beginning and ending at centre front of bag.
Fill sachet with dried lavender and fasten to secure